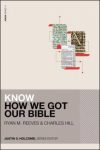 Bible Gateway interviews Ryan M. Reeves and Charles Hill, authors of "Know How We Got Our Bible"
What is the history of the Bible from its beginnings to the present day? How was the Bible written and its various books chosen? How reliable is it? How were the Old Testament and New Testament formed? Bible Gateway interviewed Ryan M. Reeves (@RyanMReeves) and Charles Hill about their book, Know How We Got Our Bible (Zondervan, 2018).

Bible Gateway interviews Russ Ramsey, author of the "Retelling the Story" series of books
Do you sometimes approach familiar Bible passages with a sense of fatigue or mindlessness because you've read it all before? You've lost the wonder of it all and it doesn't feel new to you? You think you know what it all says already? How can the spiritual discipline of reading Scripture afresh allow you to rediscover the ancient word in startlingly new ways? Bible Gateway interviewed Russ Ramsey (@russramsey) about his Retelling the Story series (InterVarsity Press, 2016), including The Advent of the Lamb of God, The Passion of the King of Glory, and The Mission of the Body of Christ.