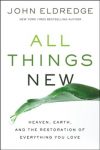 Bible Gateway interviews John Eldredge, author of "All Things New"
What is God's promise for a new heaven and a new earth? Does the Bible say that heaven is our eternal home? Or is it as Jesus says in the Gospel of Matthew, that the next chapter of our story begins with "the renewal of all things," by which he means the earth we know and love in all its beauty? Bible Gateway interviewed John Eldredge (@johneldredge) about his book, All Things New: Heaven, Earth, and the restoration of Everything You Love (Thomas Nelson, 2017).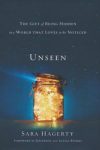 Bible Gateway interviews Sara Hagerty, author of "Unseen"
How does the Bible story of Mary of Bethany equip you to use "unseen" moments to draw your heart closer to God? In this Q&A, Sara Hagerty (@SaraHagerty) talks about her book, Unseen: The Gift of Being Hidden in a World That Loves to Be Noticed (Zondervan, 2017).