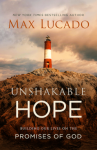 Bible Gateway interviews Max Lucado, author of "Unshakable Hope"
Where do you turn in a world full of despair, depression, anxiety, and instability? A world where an increasing number of people are choosing suicide out of an extreme lack of hope? How can the realization of God's promises in the Bible stem whatever hopelessness you feel to bring you lasting security? In this Q&A on Bible Gateway, Max Lucado (@MaxLucado) talks about his forthcoming book, Unshakable Hope: Building Our Lives on the Promises of God (Thomas Nelson, 2018), scheduled to release in August.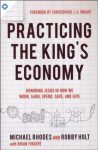 Bible Gateway interviews Michael Rhodes and Robby Holt, authors of "Practicing the King's Economy"
How should Christians biblically and practically earn, invest, spend, compensate, save, share, and give money in ways that embody God's love and provision for the world? Bible Gateway interviewed Michael Rhodes (@michaeljrhodes) and Robby Holt (@robbyholt) about their book, Practicing the King's Economy: Honoring Jesus in How We Work, earn, Spend, Save, and Give (Baker Books, 2018).