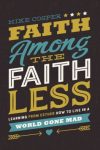 Bible Gateway interviews Mike Cosper, author of "Faith Among the Faithless"
How can Christians live without compromise in an increasingly hostile society? And what if Christians have already been shaped by their surrounding culture in harmful, soul-destroying ways? What are the parallels between the modern world and the biblical story of Esther? Bible Gateway interviewed Mike Cosper (@MikeCosper) about his book, Faith Among the Faithless: Learning from Esther How to Live in a World Gone Mad (Thomas Nelson, 2018).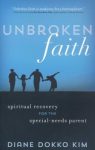 Bible Gateway interviews Diane Dokko Kim, author of "Unbroken Faith"
When you hear that your child has a disability, your heart and hope may be broken, and your faith may be struggling to reconcile how God can be good even though your situation is devastating. Parents ask, "Will my child still have a full life?" "Can I do this?" "Where is God in all this?" Bible Gateway interviewed Diane Dokko Kim (@DianeDokkoKim) about her book, Unbroken Faith: Spiritual Recovery for the Special Needs Parent (Worthy Inspired, 2018).