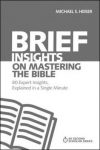 Bible Gateway interviews Michael Heiser, author of the "60-Second Scholar Series"
What if aspects of biblical scholarship could be distilled into understandable bite-sized insights you could read each in 60-seconds to unlock the Bible's individual sections and main teachings? Bible Gateway interviewed Michael Heiser (@msheiser) about the 60-Second Scholar Series (Zondervan, 2018).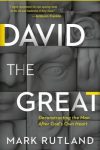 Bible Gateway interviews Mark Rutland, author of "David the Great"
The Bible describes King David as "a man after God's own heart," yet it recounts David's many indiscretions and sins. Do we really reckon with who he was? Have we reduced him to a shepherd boy with a slingshot? How do we come to terms with this flawed-but-might king in all his moral complexity? Bible Gateway interviewed Mark Rutland (@DrMarkRutland) about his book, David the Great: Deconstructing the Man After God's Own Heart (Charisma House, 2018).