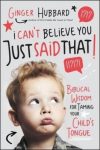 Bible Gateway interviews Ginger Hubbard, author of "I Can't Believe You Just Said That!"
Are you ever embarrassed or shocked by what comes out of your child's mouth? Do you raise your voice, threaten, and coerce, but find yourself frustrated because nothing seems to work? Is there a simple, Bible-based plan that shows parents how to help their kids tame their tongues and walk in the transforming power of Christ?  Bible Gateway interviewed Ginger Hubbard about her book, I Can't Believe You Just Said That!: Biblical Wisdom for Taming Your Child's Tongue (Thomas Nelson, 2018).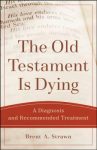 Bible Gateway interviews Brent Strawn, author of "The Old Testament Is Dying"
The Old Testament constitutes the majority of the Christian Bible and provides much of the language of Christian faith. Are churches and Christians dangerously neglecting it? Bible Gateway interviewed Brent A. Strawn (@brentstrawn) about his book, The Old Testament Is Dying: A Diagnosis and Recommended Treatment (Baker Academic, 2017).