Bible Gateway interviews Jim Cymbala and Ann Spangler, authors of "The Rescue"
What do a Wall Street broker, a party girl, a student, a homeless man, an addict, a teenage mom, and a drug enforcer have in common? All were in despair spiraling out of control until something unexpected happened to change their lives forever. Bible Gateway interviewed Jim Cymbala (@jimcymbala) and Ann Spangler (@annspangler) about their book, "The Rescue: Seven People, Seven Amazing Stories" (Zondervan, 2018).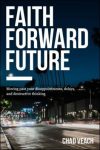 Bible Gateway interviews Chad Veach, author of "Faith Forward Future"
Are you disappointed with your life? Do you feel like you'll never accomplish anything remarkable? How should you pay attention to what God has in store for your life? Bible Gateway interviewed Chad Veach (@chadcveach) about his book, "Faith Forward Future: Moving Past Your Disappointments, Delays, and Destructive Thinking" (Thomas Nelson, 2017).