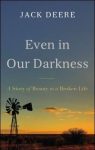 Bible Gateway interviews Jack Deere, author of "Even in Our Darkness"
"On the morning of December 31, 2000, I watched a white, cardboard coffin travel up a conveyor belt into the belly of a Boeing 757, along with the other baggage. The body in that coffin had belonged to my son. But he had gambled with it once too often." Thus opens the memoir of bestselling author, pastor, and professor Jack Deere, in which he confronts the question of where is God when your life falls apart. Bible Gateway interviewed Jack Deere about his book, Even in Our Darkness: A Story of Beauty in a Broken Life (Zondervan, 2018).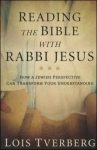 Bible Gateway interviews Lois Tverberg, author of "Reading the Bible with Rabbi Jesus"
Wrinkles and grey hair in the mirror. Rain in the forecast. Gaining a clothing size. Modern Bible readers view all of these as negatives, but in the biblical world, just the opposite would have been true. Old age was an advantage when elders were chosen as leaders, and rain was an occasion for rejoicing in the parched Middle East. Beauty was associated with gaining weight because hunger was a common struggle. Cultural differences large and small separate modern readers from how the Bible "thinks." Bible Gateway interviewed Lois Tverberg (@loistverberg) about her book, Reading the Bible with Rabbi Jesus: How a Jewish Perspective Can Transform Your Understanding (Baker Books, 2018).