Bible Gateway's Q&A with Chuck Swindoll about "The Swindoll Study Bible"
A new study Bible combines the wit, charm, pastoral insight, and wise biblical counsel of well-known pastor, teacher, and award-winning author Chuck Swindoll's (@chuckswindoll) more than 50 years of ministry with the complete text of the Bible to help readers better understand the meaning of the scriptures. In this Q&A, Chuck talks about The Swindoll Study Bible (Tyndale House, 2017).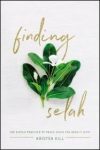 Bible Gateway interviews Kristen Kill, author of "Finding Selah"
You know that something you've been looking for in the empty stress of your mad-dash days? The Psalms call it selah: a chance to stop, re-center and resync yourself with the story and song of God. It is hope for the dissonance you feel. Bible Gateway interviewed Kristen Kill (@kristenkill) about her book,Finding Selah: The Simple Practice of Peace When You Need It Most(Zondervan, 2018).