Bible Gateway interviews Kathryn Slattery, author of "365 Bible Answers for Curious Kids"
Children ask such questions as, "How do I know the Bible is true?" "What does it mean when the Bible talks about the kingdom of God?" "How can God be three persons at the same time?" "Why couldn't Jesus just stay on Earth forever?" "What is baptism?" "Who invented time?" Bible Gateway interviewed Kathryn Slattery about her book, "365 Bible Answers for Curious Kids" (Tommy Nelson, 2017).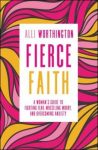 Bible Gateway interviews Alli Worthington, author of "Fierce Faith"
Sometimes Jesus' call to "fear not" seems like the hardest instruction to follow. Some days you faultlessly juggle everything that is your life—kids, husband, house, job, church, friendships, school, pets, appointments, and on and on. Other days the very thought of which ball you're going to drop puts your anxiety level through the roof. Bible Gateway interviewed Alli Worthington (@alli) about her book, "Fierce Faith: A Woman's Guide to Fighting Fear, Wrestling Worry, and Overcoming Anxiety" (Zondervan, 2018).