Bible Gateway interviews Lydia Brownback, author of 'Sing a New Song'
Fear, joy, heartache, anger, frustration, doubt; the book of Psalms displays an incredible range of human emotions as they're expressed toward God in prayer and song. Bible Gateway interviewed Lydia Brownback about her book, 'Sing a New Song: A Woman's Guide to the Psalms' (Crossway, 2017).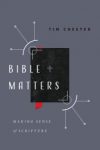 Bible Gateway interviews Tim Chester, author of 'Bible Matters: Making Sense of Scripture'
Do we approach the Bible believing that the One who spoke and brought the universe into existence, whose voice thundered from Mount Sinai, and whose words healed the sick is the same God who speaks to us today through Scripture? Are we reading the Bible not merely to learn information about God but to hear his voice and encounter his presence? Bible Gateway interviewed Tim Chester (@timchestercouk) about his book, 'Bible Matters: Making Sense of Scripture' (InterVarsity Press, 2016).