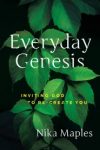 Bible Gateway interviews Nika Maples, author of 'Everyday Genesis'
Do you desire to change or completely start over? How does the Genesis account of creation reveal a divine sequence applicable for us today? What lessons does the Genesis story teach about spiritual disciplines for abiding in Christ and staying in step with the Holy Spirit? Bible Gateway interviewed Nika Maples (@NikaMaples) about her book 'Everyday Genesis: Inviting God to Re-Create You' (Worthy Publishing, 2017).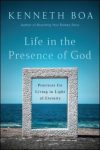 Bible Gateway interviews Ken Boa, author of 'Life in the Presence of God'
Why don't we intentionally experience God's presence more than we do? After all, he's everywhere and always with us. How do life's distractions drown out God's voice? How should we cultivate a life living in God's presence? Bible Gateway interviewed Ken Boa (@KennethBoa) about his book, 'Life in the Presence of God: Practices for Living in Light of Eternity' (InterVarsity Press, 2017).