Bible Gateway interviews Randall Price, co-author of "Zondervan Handbook of Biblical Archaeology"
Archaeology uncovers buried civilizations. What does this contribute to our understanding of the Bible written so long ago by so many different people in so many different cultures? Bible Gateway interviewed J. Randall Price, who, along with H. Wayne House, is the author of Zondervan Handbook of Biblical Archaeology (Zondervan, 2017).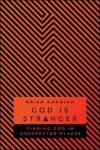 Bible Gateway interviews Krish Kandiah, author of "God Is Stranger"
God is called Father, Lord, Friend, and Savior. But when we delve into the perplexing bits of Scripture, we discover God cannot be pinned down, explained, or predicted. Is it possible that we've missed the Bible's consistent teaching that God is other, higher, stranger? Bible Gateway interviewed Krish Kandiah (@krishk) about his book, God Is Stranger: Finding God in Unexpected Places (InterVarsity Press, 2017).