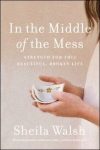 Bible Gateway interviews Sheila Walsh, author of "In the Middle of the Mess"
How can the spiritual disciplines of confession, prayer, and Scripture meditation form a daily connection to Jesus to help women in their mental health struggles? In this Q&A, Sheila Walsh (@SheilaWalsh) talks about her book, In the Middle of the Mess: Strength for This Beautiful, Broken Life (Thomas Nelson, 2017).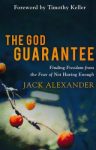 Bible Gateway interviews Jack Alexander, author of "The God Guarantee"
Why do we fear scarcity when the Bible says God will provide? How can Christians experience true abundance, both spiritually and practically and not worry about not having enough? Bible Gateway interviewed Jack Alexander (@TheReimagineGrp) about his book, The God Guarantee: Finding Freedom from the Fear of Not Having Enough (Baker Books, 2017).