Bible Gateway interviews Dee Brestin, author of 'He Calls You Beautiful'
Why is there an epic love poem in the middle of the Bible? how does the Song of Songs use marriage and romantic love as a metaphor for the intimacy Jesus longs to have with each person? Bible Gateway interviewed Dee Brestin (@deebrestin) about her book, He Calls You Beautiful: Hearing the Voice of Jesus in the Song of Songs (Multnomah Books, 2017).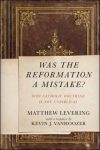 Bible Gateway interviews Dr. Matthew Levering, author of 'Was the Reformation a Mistake?'
What theological issues drove Martin Luther to post his 95 Theses? How can looking at the Reformation from a Catholic perspective be helpful? What is the biblical defense of Catholic doctrine? Bible Gateway interviewed Dr. Matthew Levering about his book, Was the Reformation a Mistake?: Why Catholic Doctrine is Not Unbiblical (Zondervan, 2017).