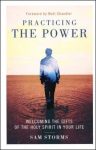 Bible Gateway interviews Sam Storms, author of Practicing the Power
The Bible teaches we're to be filled with the Holy Spirit and that God's presence and grace is manifested among his people as they serve, love, and minister to one another. Yet why do gifts of prophecy, healing, tongues, and other supernatural gifts of God seem to be inconsistently demonstrated? Bible Gateway interviewed Sam Storms (@Samuel_Storms) about his book, Practicing the Power: Welcoming the Gifts of the Holy Spirit in Your Life (Zondervan, 2017).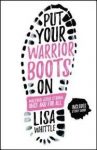 Bible Gateway interviews Lisa Whittle, author of Put Your Warrior Boots On
Does it feel like the world has gone crazy and you're just along for the ride? Are you afraid for your children? Are you worried of not having enough strength to face the day? What does the Bible mean when we read "fear not"? Bible Gateway interviewed Lisa Whittle (@LisaRWhittle) about her book, Put Your Warrior Boots On: Walking Jesus Strong, Once and for All (Harvest House Publishers, 2017).