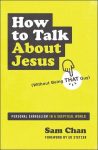 Bible Gateway interviews Sam Chan, author of "How to Talk About Jesus"
When you try to tell your friends about Jesus, you may have encountered a negative response from them viewing it as being offensive, inappropriate, or insensitive. Studies confirm that the majority of Christians rarely evangelize, worried they might offend their family or lose their friends. How can you build confidence to share your faith?  Bible Gateway interviewed Sam Chan (@drsamchan) about his book "How to Talk About Jesus (Without Being THAT Guy): Personal Evangelism in a Skeptical World" (Zondervan, 2020).
Bible Gateway interviews Scott Erickson, author of "Honest Advent"
Have you lost the sense of just how full of amazing wonder Christmas is? Maybe for you, the joy of the season is painfully dissonant with the hard edges of life. Or maybe you feel wearied by the way Christmas has become a polished, predictable routine. Or maybe this sacred divine story is too confusing and feels too far removed from our modern world. Bible Gateway interviewed Scott Erickson (@scottthepainter) about his book, "Honest Advent: Awakening to the Wonder of God-with-Us, Then, Here, and Now" (Zondervan, 2020).