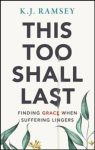 Bible Gateway interviews K.J. Ramsey, author of "This Too Shall Last"
When your prayers for healing haven't been answered, the fog of depression isn't lifting, your marriage is ending in divorce, or grief won't go away, it's easy to feel you've failed God and, worse, he's failed you. If God loves us, why does he allow us to hurt? Bible Gateway interviewed K.J. Ramsey (@kjramseywrites), author of "This Too Shall Last: Finding Grace When Suffering Lingers" (Zondervan, 2020).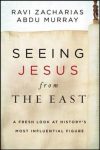 Bible Gateway interviews Abdu Murray, co-author of "Seeing Jesus from the East"
What are the cultural insights Westerners often miss when the Eastern context of the Bible is ignored? What were the ways Jesus taught that were thoroughly Eastern—rooted in story, honor, and community—yet appeal to Western thinking—based in reasoning and linear process—today? How does understanding Eastern idioms and customs make mysterious or seemingly confusing Bible passages understandable? In this Q&A, Abdu Murray (@AbduMurray), co-author with Ravi Zacharias (@RaviZacharias), talks about their book, "Seeing Jesus from the East: A Fresh Look at History's Most Influential Figure" (Zondervan, 2020).