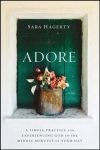 Bible Gateway interviews Sara Hagerty, author of "Adore"
Do you long to experience God in the thick of life's demands? If you're honest with yourself, do you admit, "I barely know you, God"? Do you consider God to be a familiar stranger? Bible Gateway interviewed Sara Hagerty (@SaraHagerty), author of "Adore: A Simple Practice for Experiencing God in the Middle Minutes of Your Day" (Zondervan, 2020).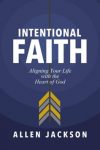 Bible Gateway interviews Allen Jackson, author of "Intentional Faith"
You won't lose weight unless you're deliberate about it. You won't gain muscle unless you intentionally exercise. You won't earn a college degree unless you plan to achieve it. What does it mean to intentionally seek a deeper relationship of faith with God?  Bible Gateway interviewed Allen Jackson (@allenjacksonmin), author of "Intentional Faith: Aligning Your Life with the Heart of God" (Thomas Nelson, 2020).