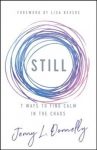 Bible Gateway interviews Jenny L. Donnelly, author of "Still"
Do you worry a lot? Is it common for you to dread upcoming events? Does pressure or stress trigger outbursts of anger, isolation, depression, or feelings of failure? Do you have a hard time finishing what you start? Do you find it impossible to work in the middle of chaos? Do you wonder if God is really going to come through for you in difficult times? Bible Gateway interviewed Jenny L. Donnelly (@JennyLDonnelly), author of "Still: 7 Ways to Find Calm in the Chaos" (Revell, 2020).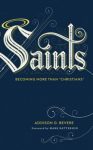 Bible Gateway interviews Addison D. Bevere, author of "Saints"
The Bible uses the word Christian to describe followers of Jesus a grand total of three times. But there's another identifier that fills the pages of the New Testament—a word that's been mistakenly reserved for the halo-wearing elite, losing something profound in the process: saints. Wrapped in this ancient word is a divine invitation to discover who God created you to be and awaken you to the life you were meant to know. Bible Gateway interviewed Addison D. Bevere (@addisonbevere) about his book, "Saints: Becoming More Than 'Christians'" (Revell, 2020).