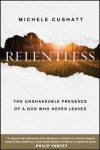 Bible Gateway interviews Michele Cushatt, author of "Relentless"
How do you sense God is with you during deep personal struggle? How do you hold onto faith when faith itself seems lost? Whether in struggle, illness, death, or failure, the presence of pain causes us to question the presence of God. We pray and watch the sky, crossing our spiritual fingers for proof of God's nearness. And in the silence, we sense something more sinister: perceived abandonment. Bible Gateway interviewed Michele Cushatt (@MicheleCushatt), author of "Relentless: The Unshakable Presence of a God Who Never Leaves" (Zondervan, 2019).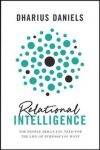 Bible Gateway blog features guest post by author Dr. Dharius Daniels
In his guest post on the Bible Gateway Blog, the founder and lead pastor of New Jersey's Change Church says, "There is no such thing as a casual relationship. All relationships are consequential. They are catalytic. They push us forward or hold us back. They propel us into purpose or push us into pain. They bring joy or bring sorrow." Dr. Dharius Daniels (@DhariusDaniels) is the author of "Relational Intelligence: The People Skills You Need for the Life of Purpose You Want" (Zondervan, 2020).