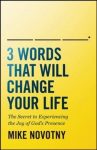 Bible Gateway interviews Mike Novotny, author of "3 Words That Will Change Your Life"
How can the sentence "GOD is here" be the key to more happiness, less boredom, more rest, less rush, more love, less drama, more peace, less fear? How should you change your perspective from merely enjoying the good moments in your life to worshiping the God who is right here, right now? Bible Gateway interviewed Mike Novotny (@timeofgracemin) about his book, "3 Words That Will Change Your Life: The Secret to Experiencing the Joy of God's Presence" (Bethany House, 2020).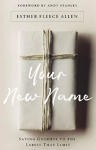 Bible Gateway interviews Esther Fleece Allen, author of "Your New Name"
How does the Bible place value on names? What's the difference between divinely appointed names and hurtful labels bestowed by circumstances? How can a God-given name for you boldly declare freedom from your past and hope for your future? Do you let the truth of who you are be overshadowed by your relationship status, your job title, or what others say about you?  Bible Gateway interviewed Esther Fleece Allen (@EstherFleece) about her book, "Your New Name: Saying Goodbye to the Labels That Limit" (Zondervan, 2020).