Bible Gateway Interviews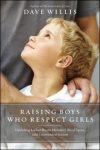 Bible Gateway interviews Dave Willis, author of "Raising Boys Who Respect Girls"
How can parents biblically and practically raise a generation of sons who are champions, encouragers, and respecters of women? What are the principles parents need to teach their sons so they will become men who break the pattern of thinking and acting that lead to the #metoo and #churchtoo atrocities? Bible Gateway interviewed Dave Willis (@DaveWillis), author of Raising Boys Who Respect Girls: Upending Locker Room Mentality, Blind Spots, and Unintended Sexism (Thomas Nelson, 2019).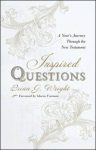 Bible Gateway interviews Brian J. Wright, author of "Inspired Questions"
Even as a boy, Jesus used inquiry to prompt people's thinking: "After three days they found him in the temple, sitting among the teachers, listening to them and asking them questions" (Luke 2:46). We turn to the Bible for answers, but it actually is also full of questions. Bible Gateway interviewed Brian J. Wright, author of Inspired Questions: A Year's Journey Through the New Testament (Christian Focus, 2019).