Bible Gateway Interviews

Bible Gateway interviews Jason Meyer, author of "Don't Lose Heart"
In a world surrounded by 24-hour news and reminders on social media of tragedy and heartache, it's easy to fall into the abyss of discouragement and anxiety. Even Jesus followers struggle to hold on to hope. What is the hopeful guidance from God's Word for times when you feel overwhelmed, defeated, and worthless? How can the Bible help you conquer despair when the past paralyzes, today disappoints, and the future is frightening? Bible Gateway interviewed Jason Meyer (@WePreachChrist) about his book, Don't Lose Heart: Gospel Hope for the Discouraged Soul (Baker Books, 2019).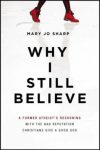 Bible Gateway interviews Mary Jo Sharp, author of "Why I Still Believe"
Critics ask, "Why would anyone become a Christian when there's so much hypocrisy in the church?" With de-conversion stories being reported, why is it that the church inadvertently produces atheists despite its life-giving message? Does atheism explain the human experience better than Christianity? How can the truth of Christianity matter when the behaviors of some Christians are reprehensible? Bible Gateway interviewed Mary Jo Sharp (@MaryJoSharp), author of Why I Still Believe: A Former Atheist's Reckoning with the Bad Reputation Christians Give a Good God (Zondervan, 2019).