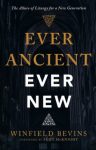 Bible Gateway interviews Winfield Bevins, author of "Ever Ancient, Ever New"
A generation of young Christians from different backgrounds and traditions are finding a home and deep connection in the church by embracing a liturgical expression of the faith. What are the roots of liturgy and how does it fit with scriptural worship? Bible Gateway interviewed Winfield Bevins (@winfieldbevins), author of Ever Ancient, Ever New: The Allure of Liturgy for a New Generation (Zondervan, 2019).  Read this interview.

Bible Gateway interviews Emily Jensen and Laura Wifler, authors of "Risen Motherhood"
As a mom, do you assume Scripture doesn't have much to say about the food you make for breakfast, how you view your postpartum body, or what school choice you make for your children? How should you apply the gospel to common issues you face every day so you can connect your Sunday morning faith to the Monday morning tantrum? Bible Gateway interviewed Emily Jensen (@EmJensenWrites) and Laura Wifler (@laurawifler) about their book Risen Motherhood: Gospel Hope for Everyday Moments (Harvest House Publishers, 2019). Read this interview.