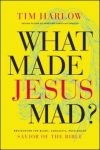 Bible Gateway interviews Tim Harlow, author of "What Made Jesus Mad?"
Christians love to focus on the gentle and tender heart of Jesus. But what about his righteous rage? In the Gospels, what, and who, ignited Jesus' anger? How should we appropriately respond like Jesus when necessary? Bible Gateway interviewed Tim Harlow (@tharlow) about his book, "What Made Jesus Mad?: Rediscover the Blunt, Sarcastic, Passionate Savior of the Bible" (Thomas Nelson, 2019).

Bible Gateway interviews John Greco and Ryan Myers About the "He Reads Truth Bible"
A Bible formatted with an artful design intended to appeal specifically to men, from its typeface to theological memos for increasing Bible literacy to color-coded genre identification for each book of the Bible to colorful infographics, charts, and maps. Bible Gateway interviewed content director John Greco (@johngrecowrites) and creative director Ryan Myers (@uberryan) about the "He Reads Truth Bible" (B&H Publishing, 2019).