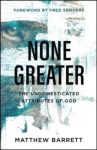 Bible Gateway interviews Matthew Barrett, author of "None Greater"
Have Christians domesticated God? Or do we properly see God who is high and lifted up, the Creator rather than the creature, all-powerful, all-knowing, all-wise, and someone than whom none greater can be conceived? In this interview on Bible Gateway, Matthew Barrett (@mattmbarrett) talks about his book, "None Greater: The Undomesticated Attributes of God" (Baker Books, 2019).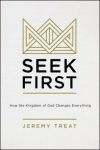 Bible Gateway interviews Jeremy R. Treat, author of "Seek First"
What does the phrase "kingdom of God" really mean? How does it bring profound and practical clarity and coherence to living all of life—identity, work, play, relationships, justice, and character—in this age of distraction? Bible Gateway interviewed Jeremy R. Treat (@JeremyTreat5) about his book, "Seek First: How the Kingdom of God Changes Everything" (Zondervan, 2019).