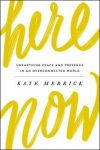 Bible Gateway interviews Kate Merrick, author of "Here, Now"
Does life seem to be passing you by? Are you so busy that you've become disconnected from your actual life? The one you're living right here, right now? How can we stop neglecting the lives we're living today and instead intentionally walk in the peace and fullness God offers moment to moment? Bible Gateway interviewed Kate Merrick about her book, "Here, Now: Unearthing Peace and Presence in an Overconnected World" (Thomas Nelson, 2019).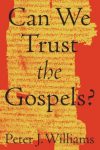 Bible Gateway interviews Peter J. Williams, author of "Can We Trust the Gospels?"
Why does the Bible have four Gospels that each tell about the life of Jesus? How reliable are they? How were the accounts handed down throughout history? What are the answers to skeptics who say the Gospels are merely historical fiction and were simply created to fit existing messianic prophecies? Bible Gateway interviewed Dr. Peter J. Williams about his book, "Can We Trust the Gospels?" (Crossway, 2018).