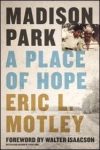 Bible Gateway interviews Eric Motley, author of "Madison Park: A Place of Hope"
Welcome to Madison Park, a small community in Alabama founded by freed slaves in 1880. And meet Eric Motley, a native son who came of age in this remarkable place where constant lessons in self-determination, hope, and faith taught him everything he needed for his journey to the White House. Bible Gateway interviewed Eric Motley about his book, Madison Park: A Place of Hope(Zondervan, 2017).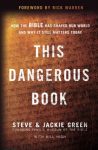 Bible Gateway interviews Steve Green, co-author of "This Dangerous Book"
Why is the Bible the bestselling book of all time? Why does it ignite religious debate, social upheaval, and political controversy? How could one ancient book have so much power through the centuries? Bible Gateway interviewed Steve Green (@SteveGreenHL), who, along with his wife Jackie (@JackieDGreen), wrote This Dangerous Book: How the Bible Has Shaped Our World and Why It Still Matters Today (Zondervan, 2017).