Bible Gateway and Tyndale announce "10 minutes with Jesus"
devotional experience as a lead up to Easter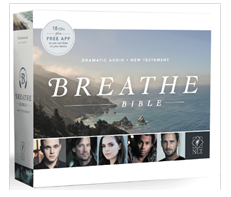 CAROL STREAM, Ill. (March 31, 2017) – Bible Gateway and Tyndale House Publishers are partnering to announce the release of the Breathe audio Bible with a 16-day "10 minutes with Jesus" free email devotional experience (http://bg4.me/2ouqzOp) that begins April 1 and culminates on Easter Sunday, April 16. Participants in this experience can prepare their hearts for Easter as they walk with Jesus through the Gospel of Mark, listening to or reading one chapter each day, finishing with Mark 16, the Resurrection chapter, on Easter Sunday.
People who choose the audio option will be listening to the Breathe Bible New Testament, an all-new dramatized audio Bible in the New Living Translation. Performed by a cast of internationally acclaimed film, television, and recording artists including Kevin Sorbo, Josh Lucas, and John Rhys-Davies, this multi-million dollar audio production features cinema-quality sound with an original music score. Listening to the Breathe Bible New Testament is a transformative experience so real, it's like being there.
"We developed the 10 Minutes with Jesus devotional with Bible Gateway to help individuals and families engage in God's Word in a meaningful way in as little as ten minutes a day," said Jeffrey Smith, NLT Brand Director. "Users can read or listen to the text on their mobile device and key passage highlights are provided, along with a reflection question, to help readers discover key insights into each passage."
To be a part of this 16-day journey through the life of Jesus, register athttps://www.biblegateway.com/landing/10minutes/. Starting Saturday, April 1, everyone who subscribes will receive a daily email with options to listen to the reading that day and/or read the chapter online.
The Breathe Bible New Testament includes over 21 fully dramatized hours of immersive audio. The Bible will come alive to listeners as a cast of 90 award-winning artists performs the Bible backed by cinema-quality sound and an original score. This audio experience is offered in CD format—18 high quality CDs in a portable audio album, plus a free app—or via digital download. You can also download the free Breathe Bible app in the App Store or Google Play.
The Breathe Bible New Testament is available at BibleGatewayStore.com, Amazon, BreatheBible.com, ChristianBook.com, Christian bookstores, LifeWay, and Tyndale.com. Digital copies of the Breathe Bible New Testament can be purchased on the BreatheBible.com site.
About Bible Gateway
As the Internet's largest Christian website, Bible Gateway seeks to equip people to read and understand the Bible, wherever they are. Celebrating more than 20 years online, Bible Gateway offers free access to the Bible in more than 200 different translations and more than 70 languages. Bible Gateway's website and app are visited by more than 18 million unique visitors per month. Bible Gateway also offers the membership service Bible Gateway Plus, which begins with a 30-day free trial. The company is part of HarperCollins Christian Publishing, Inc. Please visit Bible Gateway at www.biblegateway.com.
About Tyndale House Publishers
Tyndale House Publishers, founded in 1962, is the world's largest privately held Christian publisher of books, Bibles, and digital media. Tyndale has published many New York Times bestsellers. The largest portion of its profit goes to the nonprofit Tyndale House Foundation, which makes grants to help meet the physical and spiritual needs of people around the world. Tyndale was founded to publish Living Letters, which later comprised part of The Living Bible, a contemporary paraphrase of the Bible that became a global publishing phenomenon. Tyndale now publishes the Holy Bible, New Living Translation (NLT), the translation of choice for millions of people. Each NLT sale benefits the worldwide translation work of Wycliffe Bible Translators.