Bible Gateway adds New Matthew Bible to its extensive online Bible translation collection
The NMB is the updated version of William Tyndale's original 1535 Bible translation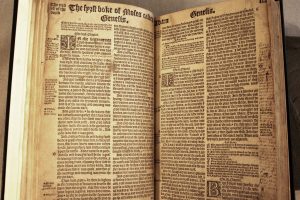 GRAND RAPIDS, Mich. (September 29, 2017) – The world's most visited Christian website, Bible Gateway (BibleGateway.com; @BibleGateway), has now added one more Bible to its online collection of over 200 freely available Bible versions.
In time for International Translation Day (Sept. 30, to honor St. Jerome, the Bible translator considered the patron saint of translators), the New Matthew Bible (NMB) is now available to be read online and in the award-winning free Bible Gateway App for tablets and smartphones.
The NMB is the New Testament William Tyndale translated in 1535, gently updated for today. Not a new translation, it's Tyndale's original work, made understandable for modern readers by editor Ruth Magnusson Davis.
This New Testament translation was first published in the Matthew Bible, which was the work of Tyndale's friend John Rogers, in 1537. The Matthew Bible formed the basis of the King James Version (KJV) Bible published a century later.
"Throughout the updating process, my goal was to retain Tyndale's style and poetry and to guard the historic language of the faith," says Davis. "The reader will find much that is familiar in the beauty of these scriptures, but will be pleased with the greater flow and clarity."
While making old English understandable to modern readers, Davis has been faithful to detail. For example, 'tribute' (payment to a foreign ruler), remains 'tribute' (not changed to 'tax') in the NMB. Another example compares part of John 18:37 in the Matthew Bible with the NMB, KJV, and New International Version (NIV):
Matthew Bible – For this cause was I born, and for this cause came I into the world, that I should bear witness unto the truth. And all that are of the truth hear my voice.
New Matthew Bible – For this cause I was born, and for this cause I came into the world: that I should bear witness to the truth. And all who are of the truth hear my voice.
King James Version – To this end was I born, and for this cause came I into the world, that I should bear witness unto the truth. Every one that is of the truth heareth my voice.
New International Version – In fact, the reason I was born and came into the world is to testify to the truth. Everyone on the side of truth listens to me.
Bible Gateway is ranked number one on global search engines and the leading Bible website relied on by people in more than 200 countries. Among its many features that augment the NMB and other Bible translations are the abilities to:
read translator footnotes within the context of Bible verses
write notes while reading Bible verses and save them to a personal account
easily share Bible verses with friends using Twitter, Facebook, email, and print.
Bible Gateway Plus is a paid service that gives members a banner ad-free Scripture reading experience on Bible Gateway, and unlimited 24/7 instant digital access to a valuable library of bestselling and critically-acclaimed Bible reference books and devotionals.
About Bible Gateway
As the Internet's largest Christian website, Bible Gateway seeks to equip people to read and understand the Bible, wherever they are. Celebrating 25 years online, Bible Gateway offers free access to the Bible in more than 200 Bible versions and more than 70 languages. Bible Gateway also offers the membership service Bible Gateway Plus, which begins with a 30-day free trial. Bible Gateway's engagement features include its daily Blog; more than 60 email devotions, Bible reading plans, and verses-of-the-day; award-winning mobile app; audio Bibles; video interviews; Bible reference books; shareable widgets; advanced search tools; retail store; and more. The company is part of HarperCollins Christian Publishing, Inc. Please frequent Bible Gateway at biblegateway.com.
Contact:  Jonathan Petersen, Marketing Manager, Bible Gateway
616.656.7159 jonathan.petersen@biblegateway.com
This news release is online at http://bg4.me/newmatthewbible