B&H Publishing to launch books, studies alongside Kendrick Brothers' new film, 'Overcomer'
Faith-Based Family Film Set for August 2019 Challenges Viewers on Identity
New books emphasize importance of finding identity in Christ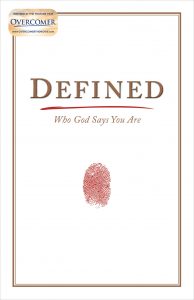 NASHVILLE, TN (May 22, 2019) – OVERCOMER, the highly anticipated sixth film from Alex and Stephen Kendrick (WAR ROOM, FIREPROOF, COURAGEOUS, FACING THE GIANTS, FLYWHEEL) will debut in theaters nationwide on Aug. 23, 2019 from AFFIRM Films, a Sony Pictures Entertainment Inc. (SPE) company, and Provident Films. OVERCOMER follows on the heels of the Kendricks' 2015 hit WAR ROOM, which was the #1 movie in theaters across North America in its second week of release, surprising Hollywood by bringing in more than $70 million at the box office.
The film is accompanied by a suite of products releasing this fall from B&H Publishing Group, including a trade book by New York Times best-selling authors Alex and Stephen Kendrick titled Defined: Who God Says You Are, a trade book titled Radiant by New York Times best-selling author Priscilla Shirer, who plays a principal character in the film, plus two full Bible study suites, books for children and teens, and other resources.
"B&H is thrilled to partner again with the Kendricks to provide resources that enrich the viewers' experience," said Jennifer Lyell, VP for Book Publishing and Merchandising with B&H Publishing Group. "Our products tied to their past films, most recently WAR ROOM, were New York Times best-sellers and we believe these OVERCOMER products will help readers connect deeper with the themes explored in the film and be equally successful in terms of sales."
OVERCOMER is a live-action family film that dares to leave viewers filled with hope, inspired to dream, and asks the question: What do you allow to define you? "The movie is about identity, an issue that everyone deals with," said writer and director Stephen Kendrick. "When a person discovers who they are in Christ, it opens up an understanding of how they can live that out in a daily basis. The resources from B&H will help readers do just that."
In the film, life changes overnight for coach John Harrison when his high school basketball team's state championship dreams are crushed under the weight of unexpected news.  When the largest manufacturing plant in town suddenly shuts down and hundreds of families begin moving away, John must come to grips with the challenges facing his family and his team. Urged by the school's principal to fill-in and coach a sport he doesn't know or like, John is frustrated and questioning his worth… until he crosses paths with a student struggling with her own journey.
Filled with a powerful mix of faith, a twist of humor, and a ton of heart, OVERCOMER will open nationwide in theaters on August 23.
The film features Priscilla Shirer (WAR ROOM, I CAN ONLY IMAGINE), director Alex Kendrick (WAR ROOM, MOMS' NIGHT OUT, COURAGEOUS), Shari Rigby (OCTOBER BABY, WILDFLOWER), Cameron Arnett (MEET THE BROWNS, STAND YOUR GROUND), and newcomer Aryn Wright-Thompson.
OVERCOMER is directed by Alex Kendrick (WAR ROOM) and produced by Stephen Kendrick (WAR ROOM) with a screenplay by Alex and Stephen Kendrick. OVERCOMER was filmed in Columbus, GA.
AFFIRM Films and Provident Films partnered with the Kendricks on the film.
To learn more, visit:  OvercomerMovie.com | Facebook.com/OvercomerMovie
B&H Publishing Group, an imprint of LifeWay Christian Resources, is a team of mission minded people with a passion for taking God's Word to the world. Because we believe Every Word Matters® we seek to provide intentional, Bible-centered content that positively impacts the hearts and minds of people, inspiring them to build a lifelong relationship with Jesus Christ. Among our print and digital releases for the trade, church and academic markets, titles include "The New York Times" No. 1 bestsellers "The Love Dare" and "The Vow," No. 1 CBA bestseller "I Am a Church Member," as well as the newly-revised Christian Standard Bible (CSB) version.
LifeWay Christian Resources is one of the world's largest providers of Christian products and services, including Bibles, Bible studies, research, church music and supplies, and digital services. Learn more at LifeWay.com.
AFFIRM Films produces, acquires and markets films that inspire, uplift and entertain audiences around the world. Since releasing its first theatrical film—The Kendrick Brothers' drama FACING THE GIANTS, in 2007, AFFIRM Films has released numerous quality faith-based films including SOUL SURFER, WHEN THE GAME STANDS TALL, WAR ROOM, which hit No. 1 on the domestic box office chart; RISEN, and was the faith-based marketing partner with Columbia Pictures and TriStar Pictures for their films MIRACLES FROM HEAVEN and HEAVEN IS FOR REAL. AFFIRM Films also released ALL SAINTS, the animated film, THE STAR, in partnership with Sony Pictures Animation and Columbia Pictures, in 2017, and PAUL, APOSTLE OF CHRIST in 2018. AFFIRM will release the highly anticipated next Kendrick Brothers' film OVERCOMER on August 23, 2019. AFFIRM Films is a division of Sony Pictures Worldwide Acquisitions (SPWA), a Sony Pictures Entertainment Inc. (SPE) company. AFFIRMFilms.com
Sony Pictures Entertainment Inc. (SPE) is a subsidiary of Tokyo-based Sony Corporation. SPE's global operations encompass motion picture production, acquisition, and distribution; television production, acquisition, and distribution; television networks; digital content creation and distribution; operation of studio facilities; and development of new entertainment products, services, and technologies. SPE's Motion Picture Group production organizations include Columbia Pictures, Screen Gems, TriStar Pictures, Sony Pictures Animation, Stage 6 Films, AFFIRM Films, and Sony Pictures Classics. For additional information, visit www.SonyPictures.com/Corp/Divisions
Provident Films, a division of Provident Music Group, a Sony company, develops, produces and markets faith-based films.  A pioneer in the genre since 2006, Provident Films' partnerships include Sherwood Pictures/Kendrick Brothers (War Room, Courageous, Fireproof and Facing the Giants), The Erwin Brothers (Woodlawn, Moms' Night Out and the $83 million box office surprise, I Can Only Imagine), Kirk Cameron (Connect) and Graceworks Pictures (Indivisible released Oct. 26, 2018). www.ProvidentFilms.com
Kendrick Brothers Productions is the company of brothers Alex, Stephen and Shannon Kendrick that exists to honor God and share the truth and love of Jesus Christ through movies, books, curriculum and speaking. By blending engaging stories with doctrinal integrity, the Kendricks seek to encourage and inspire audiences with resources that positively impact their lives and strengthen their faith, families, and personal relationships.
---
OVERCOMER related B&H Publishing Group Products
Defined: Who God Says You Are
By Alex & Stephen Kendrick
August 6
Jacketed Hardcover • 005813392 • $22.99
Radiant: His Light, Your Life (for teen girls)
By Priscilla Shirer
August 6
Trade Paper • 005813514 • $16.99
Revealed: Discovering Your True Identity in Christ (for teen guys)
By Alex & Stephen Kendrick with Troy Schmidt
August 6
Trade Paper • 005813515 • $12.99
Definidos: Quien Dice Dios Que Eres
By Alex & Stephen Kendrick
September 1
Trade Paper • 005817138 • $12.99
Overcomer Bible Study
June 1
Overcomer Church Campaign Kit • $34.99
Overcomer Leader Kit • $24.99
Overcomer Bible Study Book • $8.99
Overcomer Estudio Biblico • $8.99
Defined: Who God Says You Are Bible Study
August 1
Defined Bible Study Kit for Adults • $99.99
Defined Bible Study Book for Adults • $13.99
Defined Bible Study Book for Teen Girls by Priscilla Shirer • $13.99
Defined Bible Study Leader Kit for Teen Girls • $59.99
Defined Bible Study Book for Teen Guys by Alex & Stephen Kendrick • $13.99
Defined Bible Study Leader Kit for Teen Guys by Alex & Stephen Kendrick • $59.99
Defined Bible Study for Kids Leader's Guide • $19.99
Defined Bible Study for Kids Younger Kids Activity Workbook • $6.99
Defined Bible Study for Kids Older Kids Activity Workbook • $6.99
Wonderful: The Truth About Who I Am (for middle-grade readers)
August 9
Hardcover • 005813512 • $12.99
What's So Wonderful About Webster?
November 23
Hardcover Picture Book • 005813513 • $12.99
To learn more, visit OvercomerMovie.com/Resources
Contact:  Shanon Stowe, 931-307-1988 Shanon@IconMediaGroup.com
Jennifer Willingham, 615-483-4729 Jennifer@IconMediaGroup.com