B&H Donates New Tony Evans Books to Prison Fellowship
in One-For-One Campaign
Media Contact: Jenaye White
Jenaye.White@BHPublishingGroup.com
615-251-2964
www.bhpublishinggroup.com
NASHVILLE, Tenn — B&H Publishing Group is partnering with Prison Fellowship Ministries to provide copies of Tony Evans' latest book Detours: The Unpredictable Path to Your Destiny (January 1, 2017) to incarcerated men and women through a special one-for-one launch campaign.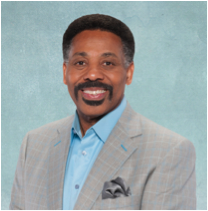 For each purchase of Detours redeemed on www.DetoursBook.com before February 28, 2017, B&H will donate one copy of Detours to Prison Fellowship Ministries.Prison Fellowship, founded by the late Charles Colson, is an international ministry that seeks to restore those affected by crime and incarceration by introducing prisoners, victims, and their families to a new hope available through Jesus Christ. Each month, over 26,000 prisoners participate in Prison Fellowship classes.
"I am so pleased to partner with Prison Fellowship in getting the message of Detours to those who may need it most," Evans said. "May they take the message to heart and be encouraged to see that God can use our delays and detours for good."
According to Evans, detours are "rerouted paths that keep us from our original route. Detours pop up in places we had not expected." Using examples from the life of Joseph, Detours helps readers answer questions such as: How do you find the destiny God has designed for your life? What is the purpose of a detour? How can you make the most of the detours God has planned for you?
Detours points readers to the truth that God works through detours to bring about His blessing and deliver His children to the place He created for them. Evans shares practical, Biblically-sound wisdom on topics such as determining God's best plan, walking in God's path, discerning His will, and trusting God and His plan.
"After recently attending one of our Prison Fellowship programs at Rikers Island, I realized how this powerful book will bring hope to those being released from incarceration as many begin their restoration process," said James Ackerman, president and CEO of Prison Fellowship. "We're so excited about this new partnership and hope it leads to more exciting projects in the future."
Evans is the founding and senior pastor of Oak Cliff Bible Fellowship in Dallas. His radio broadcast, "The Alternative with Dr. Tony Evans," is heard by over five million people, and he is the bestselling author of over 100 books and Bible studies, including Kingdom Man, Victory in Spiritual Warfare, and Marriage Matters. He is the founder of The Urban Alternative, a Christian broadcast ministry dedicated to the proclamation and application of the Word of God.
In addition to the launch campaign, B&H is supporting Detours with a national publicity campaign and book tour, top-tier marketing, and national advertising. For more information about Detours, visit www.DetoursBook.com.
"We pray this book will help shine the light of the gospel to those who are walking through an undeniably dark time," said Devin Maddox, publisher of Christian Living and Leadership books at B&H. "I am grateful for Prison Fellowship and the Tony Evans team that we are able to partner together to help bring the message of Detours to those who feel their may be little hope for them."
###
Dr. Tony Evans is founder and senior pastor of Oak Cliff Bible Fellowship in Dallas, founder and president of The Urban Alternative, former chaplain of the NFL's Dallas Cowboys, and present chaplain of the NBA's Dallas Mavericks. His radio broadcast, "The Alternative with Dr. Tony Evans," can be heard on nearly 1,000 US radio outlets daily and in more than 130 countries. For more information, visit TonyEvans.org
Prison Fellowship Ministries was founded in 1976 by the late Charles Colson, a former aide to President Nixon who served a seven-month sentence for a Watergate-related crime. Today, the Christian nonprofit is the nation's largest outreach to prisoners, former prisoners and their families, and a leading advocate for criminal justice reform. With 40 years of experience helping restore men and women behind bars, Prison Fellowship advocates for federal and state criminal justice reforms that transform those responsible for crime, validate victims and encourage communities to play a role in creating a safe, redemptive and just society.
B&H Publishing Group, an imprint of LifeWay Christian Resources, is a team of mission-minded people with a passion for taking God's Word to the world. Because we believe Every Word Matters® we seek to provide intentional, Bible-centered content that positively impacts the hearts and minds of people, inspiring them to build a lifelong relationship with Jesus Christ. Among our print and digital releases for the trade, church, and academic markets, titles include The New York Times No. 1 bestsellers The Love Dare and The Vow, #1 CBA bestseller I Am a Church Member as well as the newly-revised Christian Standard Bible version.