B&H acquires "Minneapolis Miracle" star and Denver Broncos quarterback Case Keenum
Playing for More to release in September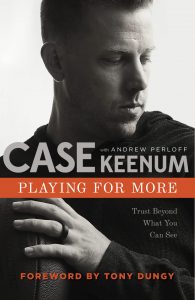 NASHVILLE, TENN. (June 4, 2018)—In 2017, Case Keenum captured America's imagination by leading the Minnesota Vikings to a 13-3 record and an NFC North title. His game-winning touchdown in the final seconds of their divisional playoff game against the Saints, the "Minneapolis Miracle," made Keenum part of NFL history.
B&H Publishing Group is proud to announce that it has acquired Keenum, now the starting quarterback for the Denver Broncos. His first book, Playing for More: Trust Beyond What You Can See, is set to release in September. Keenum will share stories from every stage of life and explain how being a Christian helped him navigate the winding paths of both adversity and success in the NFL.
"Am I a football player who happens to be a Christian?" Keenum asks. "No, I'm a Christian who happens to be a football player. That's my calling. That's my defining characteristic."
Playing for More is written with Andrew Perloff, an on-air personality on the television and radio sports talk program "The Dan Patrick Show" and contributing writer for SportsIllustrated.com. Tony Dungy, New York Times bestselling author and former NFL head coach, will pen the foreword to Playing for More.
"As I've gotten to know Case better, I've learned that his primary motivation as a player, and as a leader, is to point people to the Lord," Dungy wrote in the foreword of Playing for More. "He loves playing the game of football, loves being around his teammates and he definitely wants to use his gifts to help his team win. But none of those things are the real reason he plays football and why he competes so hard. More than anything else, he wants to show young people that the most important thing in his life is his relationship with Jesus. That's why he plays. That's why he trains so hard and has sacrificed so much to become an excellent player. And that's why he has written this book."
B&H will support Playing for More with a national media tour, heavy promotions through Fellowship of Christian Athletes and NFL media, and a national marketing and advertising campaign.
Keenum is represented by the literary agency of The Fedd Agency, Inc., Post Office Box 341973, Austin, Texas 78734.
"Case Keenum is the real deal," said Devin Maddox, B&H Trade Publisher. "He is a guy who gets that life is more than what we do—though what he has done in his career is amazing—and we can't wait to see how his vision for influencing others through football will extend long into the future, and beyond sports."
For more information about Playing for More, visit bhpublishinggroup.com.
Media Contact: Jenaye White, Jenaye.White@BHPublishingGroup.com
615-251-2964   bhpublishinggroup.com