Bethany House author Rachel Dylan to host Facebook launch party
Readers will come together to discuss Lone Witness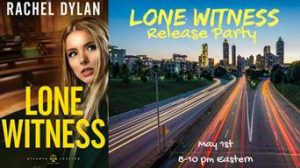 Rachel Dylan, author of Lone Witness (Bethany House), will be hosting a Facebook launch party on Tuesday, May 1, 2018 at 8:00 PM EDT/5:00 PM PDT.
During the live event, Dylan will be sharing the inspiration behind the new release and leading readers in a discussion of the book. Readers will also be able to ask the author questions throughout the night. The party will also include live video featuring the author. Prizes will be given out, including copies of Lone Witness as well as books from other authors.
About the Lone Witness, book 2 in the Atlanta Justice series:
Prosecutor Sophie Dawson has taken a new role at the Fulton County DA's office, and her first case involves a local bank employee who may be cheating customers. She's determined to bring justice to those who've lost their savings . . . but her life is turned upside down when she becomes the only witness to a double homicide involving a vengeful gang.
With her life at risk, friends and family convince her that she needs protection, and private security guard Cooper Knight is hired as a bodyguard. But as threats escalate, neither Cooper nor Sophie knows whom they can trust.
Unwilling to back down on either case, Sophie pursues the truth at any cost. But her bank litigation gets more complicated by the day, and the gang will stop at nothing to keep her from taking the stand. With all sides closing in, steadfast Cooper is the only man she can lean on. But drawing close may be the distraction that costs both of their lives.
About the Author:  
Rachel Dylan was a litigator in one of the nation's most elite law firms for over eight years and now works as an attorney at one of the Big Three automobile manufacturers. She is the author of four Love Inspired Suspense novels and most recently, the Atlanta Justice series (Deadly Proof and Lone Witness). Dylan lives in Michigan with her husband.
Learn more about the author at www.racheldylan.com, on Facebook (RachelDylanAuthor), Twitter (@dylan_rachel) or Instagram (racheldylanauthor).