Bestselling NIV Adventure Bible now available
in new, innovative Polar Exploration Edition
More than 9 million copies sold of #1 Bibles for kids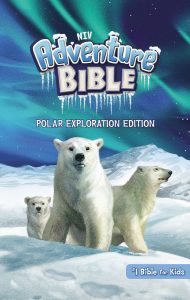 Grand Rapids, Mich., Oct. 29, 2018 — With over 9 million copies sold, the Adventure Bible brand is beloved by Christian schools, churches, and families alike. Now the #1 Bible for kids is available in an all-new, exciting, polar exploration theme!
While on this arctic adventure, readers meet all types of people, see all sorts of places, and learn all kinds of facts about the Bible. And, most importantly, children will grow closer in their relationship with God.
"The NIV Adventure Bible is not only the number one selling Bible for kids—it is also the number one selling Bible over all other Bibles, both for adults and children," says Kevin Traub, senior marketing director, Zondervan. "We take that responsibility very seriously. Christian school teachers, parents, and children count on this Bible and its trusted essentials to provide clear, accurate, and fun access to the Bible text for children."
"While the current jungle adventure theme has obviously resonated with children, we felt there could be other adventures waiting for children to explore, and so the polar exploration theme was born," says Sara Bierling, acquisition editor, Zondervan. "Polar themes are intriguing to children because so few of them will actually be able to explore the North or South Poles. We contracted with the same artist who created the original Adventure Bible art to give the NIV Adventure Bible a polar makeover, and we are so pleased with the results. Of course, the original jungle-themed NIV Adventure Bible is still available for those who love its classic look."
Thrilling new art accompanies the same trusted content to enhance children's journey through the Bible. The content falls on the same pages as the original NIV Adventure Bible, so children can use their Polar Exploration Edition in the classroom and still be able to follow along with the rest of the class.
Features of the 
NIV Adventure Bible, Polar Exploration Edition
 include:
The same trusted Adventure Bible content in a frosty new theme

Full-color images of polar animals, arctic outposts, and icy landscapes throughout make learning about the Bible even more engaging

Life in Bible Times—Articles and illustrations describe what life was like in ancient days

Words to Treasure—Highlights great verses to memorize

Did You Know?—Interesting facts help you understand God's Word and the life of faith

People in Bible Times—Articles offer close-up looks at amazing people of the Bible

Live It!—Hands-on activities help you apply biblical truths to your life

Twenty polar-themed pages focus on topics such as how to know you are a Christian, famous people of the Bible, highlights of the life of Jesus, and how to pray.

Book introductions feature arctic art and important information about each book of the Bible

Dictionary/concordance for looking up tricky words

Color map section to help locate places in the Bible

Complete text of the New International Version (NIV) of the Bible

Thrilling new glacial cover on metallic paper
To learn more, visit www.AdventureBible.com/PolarEdition. For review and giveaway copies, contact Kevin Traub at Kevin.Traub@harpercollins.com. 
About the NIV:  The New International Version (NIV) is the world's bestselling modern-English Bible translation—accurate, readable, and clear, yet rich with the detail found in the original languages. The NIV is the result of over 50 years of work by the Committee on Bible Translation, who oversee the efforts of many contributing scholars. Representing the spectrum of evangelicalism, the translators come from a wide range of denominations and various countries and continually review new research in order to ensure the NIV remains at the forefront of accessibility, relevance, and authority. Every NIV Bible that is purchased helps Biblica, a nonprofit ministry organization, translate and give Bibles to people in need around the world. To learn more, visit www.thenivbible.com.
About Zondervan:  Zondervan is a world leading Bible publisher and provider of Christian communications. Zondervan, part of HarperCollins Christian Publishing, Inc., delivers transformational Christian experiences through its bestselling Bibles, books, curriculum, academic resources and digital products. The Company's products are sold worldwide and translated into nearly 200 languages. Zondervan offices are located in Grand Rapids, Mich. For additional information, please visit www.zondervan.com.
Contact:
Trinity McFadden, Senior Manager of Publicity, 616-698-3514, trinity.mcfadden@harpercollins.com