Bestselling FaithWords author Lauraine Snelling releases new novel
Bestselling author Lauraine Snelling shares a heartfelt story of friendship when three friends take a hilarious and meaningful trip to Florence, Italy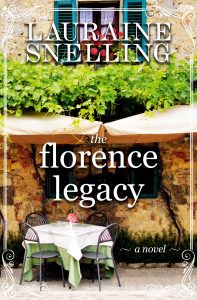 NASHVILLE, TN – Bestselling author Lauraine Snelling's latest novel is packed with friendship, grief, and travel gone awry, three friends take their dream trip to Florence, Italy in memory of a beloved woman who has passed away.
As the last will of a close friend is read, three women discover that they have inherited a legacy from her: the funds to take a dream trip to Florence, Italy, in her memory. With plenty of hilarious travel mishaps along the way, this book is a story of deep friendship, of making room in our lives to celebrate and remember, of grief, of the realization that friendship keeps the memory alive, and the sweet discovery of unexpected romance.
ABOUT THE AUTHOR
Lauraine Snelling has been writing since 1980, with over 65 books published, both fiction and non-fiction, historical and contemporary, for adults and young readers. She received a Career Achievement Award for inspirational fiction from RT Book Reviews and her books consistently appear on CBA bestseller lists. A hallmark of her style is writing about real issues within a compelling story. Lauraine and her husband, Wayne, have two grown sons and live in the Tehachapi Mountains in California with a Bassett Hound named Sir Winston.