Bestselling children's author, internationally known storyteller Bob Hartman shares the latest adventures from his popular Clever Cub Bible Stories series, on Sept. 6 from David C Cook
Author of the YouVersion Bible App for Kids Bible Stories Releases Two New Picture Books from the Clever Cub Series Created to Remind Young Children Of Their Part In God's Story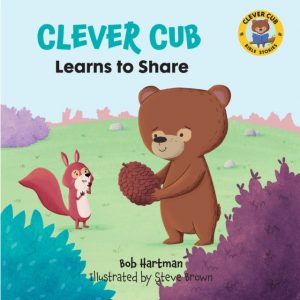 Bestselling Children's Author and internationally known Performance Storyteller Bob Hartman brings to life two all new stories poised to entertain and inspire young children with the Sept. 6 release of Clever Cub Learns to Share and Clever Cub Trusts God. Featuring the inquisitive Clever Cub, a curious little bear who LOVES to cuddle up with the Bible and learn about God, these new adventures in Hartman's popular series of pictures books from David C Cook, Clever Cub Bible Stories, remind kids of their part in God's story.
Known for its vibrant illustrations, kid-friendly questions and engaging Bible stories geared to little ones ages three to six years old, the Clever Cub picture books series makes reading time a faith-building adventure for children along with sweet reminders of their part in God's story. Each book incorporates timely themes and age-appropriate lessons as Clever Cub invites young readers to learn about the God of the Bible.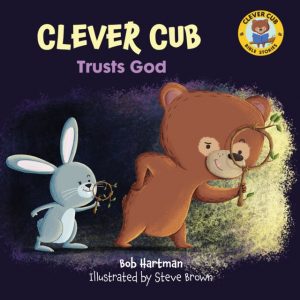 With these new adventures, God's Word comes alive through the gifted storytelling of Bob Hartman and the colorful illustrations by Steve Brown as Clever Cub learns the joy of sharing and the peace of trusting God in these delightful retellings of Jesus feeding the five thousand in the New Testament and the story of Caleb and Joshua in the Old Testament.
A note at the end of each book includes questions about the story's theme for learning more in the Bible to help parents and ministry leaders begin conversations with children about their own part in God's story.
"We all have a part in God's story!" exclaims Hartman, who is also the author of the YouVersion Bible App for Kids Bible stories which have been downloaded 85 million times. "What an incredible opportunity to share biblical truths and God's love with young children through these faith-filled adventures every time they 'cuddle up' with Clever Cub. I've read these books with my own grandchildren and watch them get excited about discovering who Jesus is. My dream for this series is that Clever Cub helps children see the love of God in their own lives and that they receive the joy that Christ brings when we enter into a relationship with Him."
Clever Cub Bible Stories Series Descriptions for Books 7 – 8:
In Clever Cub Learns to Share, Clever Cub does not want to share with Skippy the Squirrel until Papa Bear tells him about a boy in the Bible who shared all that he had and shows the reluctant Clever Cub that sharing brings great joy!
This colorful picture book:
Tells the story of Jesus feeding the five thousand with loaves and fishes in  John 6:1–14.
Teaches children ages 3 to 6 how wonderful it is to share with others.
Includes questions about the story's theme and ideas for learning more in the Bible.
As the story of Clever Cub Trusts God unfolds, Mama Bear helps Clever Cub face his fears in the night by telling him about two brave spies in the Bible who trusted God. Clever Cub goes to sleep knowing that God is with him all the time!
This engaging picture book:
Helps kids ages three to six overcome anxiety as they rest in God's presence with them.
Tells the story of how Joshua and Caleb trusted God in the desert (from Numbers 13–14).
Encourages kids to talk about their emotions and how God makes them brave.
As part of the series, there are also helpful resources and downloadable content available for parents and adults to share with children, including free Clever Cub coloring pages, animated story videos narrated by Hartman, and more "freebies" available through signing up for email updates at https://davidccook.org/clever-cub-books/. Subscribers may also receive notifications to hear about all the new Clever Club adventures coming soon and the latest free resources being offered.
Bestselling Children's Author Bob Hartman shares the story behind the creation of his all-new Clever Club Bible Stories Series.
About Bob Hartman:
Performance storyteller Bob Hartman is the author of the YouVersion Bible App for Kids Bible stories, that have been downloaded 85 million times. His long list of children's titles have sold over a million copies, including The Lion Storyteller Bible, which has been printed in eleven different languages. As an ordained minister, his passion is to help people of every age find their way into the Bible, engage with it and discover the God who inspired it. Bob is married to Sue, has two married children, Kari and Chris, and five grandchildren. For more information or to connect with Hartman, visit Facebook, Twitter and Instagram.
About Steve Brown:
Steve Brown (stevebrownillustration.co.uk) is a UK-based freelance children's illustrator with a passion for telling stories through his art and using humor to delight children and adults alike.
About David C Cook:
David C Cook is a nonprofit organization dedicated to serving the global Church with life-transforming, Christ-centered materials. Headquartered in Colorado Springs, Colorado—with offices in Illinois, Ohio, Tennessee, and the United Kingdom—David C Cook produces resources that are published in over 150 languages and distributed in more than 170 countries. Originally founded in 1875 as a curriculum publisher, David C Cook now also publishes numerous bestselling books, resources, music (Integrity Music), and media from a variety of award-winning authors and artists. Learn more about David C Cook's mission at DavidCCook.org.
ATTN MEDIA: Bob Hartman, Clever Cub Learns to Share and Clever Cub Trusts God review and giveaway copies are available upon request. High-resolution cover artwork and other press materials for these and the entire Clever Cub Bible Stories series to date are available now at https://app.box.com/v/BobHartmanCleverCubPress.
For additional information, contact:
Maureen Hoganson, MaureenHoganson@comcast.net
Rick Hoganson, Hoganson@comcast.net
Hoganson Media Relations, 615-459-9870