Bestselling authors, interior design personalities combine home, spiritual design and wisdom in new book
Victoria Duerstock and Paige Rien Candidly Discuss the Parallels of the Work We Do in Our Homes and Our Souls in 'Revived and Renovated'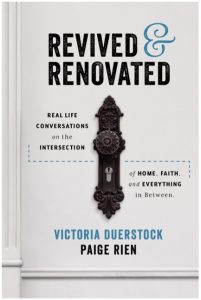 NASHVILLE, Tenn., November 2021—It's hard to hear the terms "revival" and "renovation" without picturing one of HGTV's many dynamic duos in safety goggles with hammers in hand. But reviving and renovating both have much deeper meanings when they're applied inwardly. Interior design personalities, bestselling authors, close friends, and a dynamic duo of their own, Victoria Duerstock and Paige Rien take a look at the parallels between reviving and renovating our homes and our souls in their new book, Revived and Renovated: Real Life Conversations on the Intersection of Home, Faith and Everything in Between(End Game Press, November 2021).
"We tend to think of renovation as a big project to the home, but renovations come in all shapes and sizes," writes Duerstock. "Sometimes more substantial work is required to make a house better—sometimes, all that's required or possible is a deep clean and good paint job. God's work in us is no different—at times it's earth-shattering, other times it's more subtle and gentle."
A candid conversation between friends, Revived and Renovated combines the wisdom and life experiences of two do-it-yourself professional home renovators, their life and spiritual journeys, and biblical wisdom to encourage readers as they do the work of reviving and renovating their souls. Duerstock and Rien delve into other aspects of these journeys as well, including what it means to restore, refurbish, reclaim, renew, refocus, remake, repurpose, rename, and recover different areas of our homes and our souls.
Duerstock and Rien are available for interviews and can speak to:
The similarities between home and soul renovation
How to find spiritual revival on a daily basis
What authenticity looks like in our homes and in our hearts
The importance of godly friends on our spiritual journeys
What it means to reclaim your story
The key to reclaiming and refurbishing our lives: the Gospel
Recovery from addiction and restoration from personal brokenness
"I think that the idea of recovering one day at a time and growing in our walk with God one day at a time, it's beautiful," writes Rien. "It's like an old piece of furniture that needs a lot of work, but we're getting there, slowly but surely."
Covering topics of home renovation with corresponding Biblical wisdom and perspectives from their personal walks with God, Revived and Renovated will be an encouragement to young and old alike. 
About Victoria Duerstock
A multi-passionate creative and entrepreneur fueled mostly by coffee, Victoria Duerstock pursues her dreams with verve and intensity. Wife and mom of three, Victoria divides and conquers the never-ending to-do list while working to maintain her sanity and pleasant demeanor. Her writing journey plunged her deep in the social media landscape and she enjoys sharing her tips and tricks for growth and engagement with others. Recipient of the 2020 Selah Nonfiction Book of the Year, Duerstock has authored six titles, with more on the way. She is the founder and president of End Game Press, a traditional publishing house where ordinary people accomplish extraordinary things. Learn more at www.victoriaduerstock.com.
About Paige Rien
Paige Rien is an author, designer, and HGTV alum whose mission to help readers put their whole selves into their homes. After a career on HGTV's "Hidden Potential" for five seasons, Paige created a homeowners guide to explore and encourage the creative journey that is home making in her first book, Love the House You're In: 40 Ways to Improve Your Home & Change Your Life. Paige is passionate that work on the home is incredibly important—that our homes can be places of refuge, self-expression, and where we truly matter the most. Work on both her home and the homes of others has been part of Paige's 20+ year recovery journey. When not watching her four active children play their respective sports, Paige guides and encourages homeowners to create their own personal aesthetic in private design consulting, through live courses and in speaking engagements.
Media Contact: Shanon Stowe, shanon@iconmediagroup.com