Bestselling author T.D. Jakes embarks on media tour
for new book, Soar!
#1 NEW YORK TIMES BESTSELLING AUTHOR T.D. JAKES DELIVERS FLIGHT LESSONS TO ACHIEVE YOUR DREAMS IN SOAR!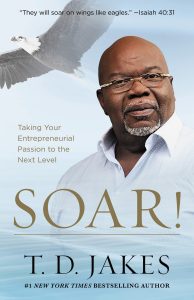 New book shares how to embrace your entrepreneurial spirit
"If you're tired of hovering in place and ready to expand your vision and fly to the next level, then it's time to make your vision a reality."—T.D. Jakes
#1 New York Times bestselling author and pastor of The Potter's House, T.D. Jakes reveals how to build the uniquely personal vision within each of us into our special contribution to the world in Soar!: Build Your Vision from the Ground Up (FaithWords/Hachette Book Group, 978-1455553907, $ 25.00, October 10, 2017).  
Speaking to anyone with an entrepreneurial vision, Jakes offers tried and true principles to go from surviving to soaring. "You don't have angel wings sprouting from your shoulder blades, possess super powers like the many heroes on our movie screens, or own a Cessna aircraft but if you have the desire for advancement in your life and you're willing to risk the familiar comfort of where you are for the adrenaline-fueled thrill of where you want to be, then you can fly," asserts Jakes. "Flight is possible even for those who are emotionally, financially and creatively fatigued. You can take your vision, build it into something remarkable, and reach heights you could have never imagined."
Drawing on lessons learned in his own life as a pastor, investor, author, producer and all-around entrepreneur along with stories of other people, such as Oprah, Jakes shares concepts crucial to building a vision from the ground up, all related in a warm, inviting way using metaphors from the world of flight.
Jake will appear on The Today Show, Dr. Oz and will embark on a book tour with scheduled stops in New York, Washington, D.C., San Antonio, TX, Los Angeles, CA, and  Atlanta, GA.