Bestselling author Karen Kingsbury tells the childhood stories
of her beloved Baxter Family characters in debut middle-grade
series, cowritten with son Tyler Russell
Best Family Ever, the first book in the Baxter Family Children series, will be released by Simon & Schuster Children's Publishing in February 2019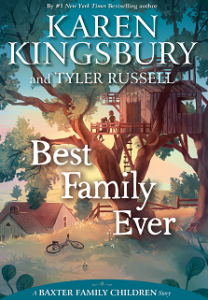 New York, NY, June 19, 2018—Paula Wiseman Books, an imprint of Simon & Schuster Children's Publishing, announced today that it will publish Best Family Ever, the first book in The Baxter Family Children middle-grade series by Karen Kingsbury, #1 New York Times bestselling author. Cowritten with Kingsbury's son, screenwriter and songwriter Tyler Russell, Best Family Ever tells the story of what it was like to grow up in the Baxter family. Best Family Ever will be published in hardcover, eBook, and audio in February 2019 and two additional titles in the series will follow. Paula Wiseman, who will edit the series with assistant editor Sarah Jane Abbott, acquired world rights from Rick Christian at Alive Literary Agency.
Much-loved storyteller Karen Kingsbury's Baxter Family books have captured the hearts of millions who have come to think of the Baxter family as their own. In The Baxter Family Children series, Kingsbury and Russell are now telling the childhood stories of the Baxter children—Brooke, Kari, Ashley, Erin, and Luke—to inspire and entertain younger readers.
"My kids grew up while I was writing about the Baxter family," Kingsbury said. "It happened quite naturally that Tyler would write these new books with me. This is a series written by family, about family."
Brooke is the perfect older sister. For that reason, Kari and Ashley work hard to make their parents just as proud of them as they are of Brooke. Each girl has her own talents. Brooke is an excellent student. Kari is a great soccer player. Ashley, a talented artist. And they are always there for each other. But when the news comes that Dr. Baxter is moving the family from Ann Arbor to Bloomington, Indiana, and the Baxters need to leave the only home and friends they've ever known, no one is happy. Saying goodbye is hard but the family still has what's most important—their faith and their love for each other.
"It's impossible not to love the Baxter family after reading Karen's heartwarming stories about their lives," said Paula Wiseman. "Now, Karen and Tyler are telling the stories of how the Baxter children—Brooke, Kari, Ashely, Erin, and Luke—grew up and the close and supportive family of Elizabeth and John Baxter.  Best Family Ever is inspiring and has all the qualities that make Karen's adult books so beloved, and we couldn't be more thrilled to be publishing this mother and son team as they introduce this wonderful family to younger readers."
Karen Kingsbury, #1 New York Times bestselling novelist, is America's favorite inspirational storyteller, with more than twenty-five million copies of her award-winning books in print. Her last dozen titles have topped bestseller lists and many of her novels are under development as major motion pictures. Her Baxter Family books have been developed into a TV series now available everywhere. Karen is also an adjunct professor of writing at Liberty University. In 2001 she and her husband, Don, adopted three boys from Haiti, doubling their family in a matter of months. Today the couple has joined the ranks of empty nesters, living in Tennessee near four of their adult children.
Tyler Russell has been telling stories his whole life. In elementary school he won a national award for a kids book he wrote, and he has been writing ever since. In 2015 he graduated college with a BFA from Lipscomb University. Soon after, he sold his first screenplay to Hallmark, which was made into a film that premiered in December of 2017. Along with screenplays and novels, Tyler is a songwriter, singer, actor, and creative who lives in Nashville, Tennessee, where he enjoys serving his incredible church, adventuring around the city, and spending time with his amazing family.
Simon & Schuster Children's Publishing, one of the leading children's book publishers in the world, comprises the following imprints: Aladdin, Atheneum Books for Young Readers, Beach Lane Books, Libros para niños, Little Simon®, Margaret K. McElderry Books, Paula Wiseman Books, Simon & Schuster Books for Young Readers, Simon Pulse, and Simon Spotlight®. While maintaining an extensive award-winning backlist, the division continues to publish acclaimed and bestselling books for children of all ages. Simon & Schuster publishes numerous Caldecott, Newbery, and National Book Award winners. For more information about Simon & Schuster Children's Publishing, visit our website at www.simonandschuster.com.
Simon & Schuster, a part of CBS Corporation, is a global leader in general interest publishing, dedicated to providing the best in fiction and nonfiction for readers of all ages, and in all printed, digital, and audio formats. Its distinguished roster of authors includes many of the world's most popular and widely recognized writers, and winners of the most prestigious literary honors and awards. It is home to numerous well-known imprints and divisions such as Simon & Schuster, Scribner, Atria Books, Gallery Books, Pocket Books, Touchstone Books, Adams Media, Threshold Editions, Simon & Schuster Children's Publishing, and Simon & Schuster Audio and international companies in Australia, Canada, India, and the United Kingdom, and proudly brings the works of its authors to readers in more than 200 countries and territories. For more information visit our website at www.simonandschuster.com.
Contact: Nicole Russo, Senior Director of Publicity, 212-632-4940, nicole.russo@simonandschuster.com