Bestselling author and pastor Louie Giglio, Passion, and B&H Publishing partner with Prison Fellowship
BRINGING HOPE TO THE INCARCERATED:
Passion and B&H Publishing to donate a copy of "Not Forsaken" to inmates for every book sold during September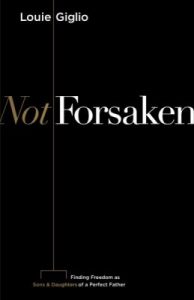 NASHVILLE, Tenn. – August 26, 2019 – In the United States, 2.7 million children have fathers in prison. Men are two times more likely to go to prison when raised in a fatherless home. Seventy percent of juveniles in the prison system are from fatherless homes. And ninety percent of homeless and runaways are from fatherless homes.
The statistics underscore our country's far-reaching fatherless issue, which hits our most vulnerable populations the hardest. One in four American children grow up in fatherless homes, and there is nowhere that those repercussions play out more consistently than in our prisons. Prison transformation is needed, and author of multiple bestselling books, speaker, pastor, and teacher, Louie Giglio, along with Passion and B&H Publishing, are partnering with Prison Fellowship to do something about this.
To address the needs of this vulnerable prison population,B&H Publishing is donating Giglio's new book, "NOT FORSAKEN: Finding Freedom as Sons & Daughters of a Perfect Father," which was a Publisher's Weekly and ECPA national bestseller. For every purchase of "Not Forsaken"from September 3 to September 30, 2019, Passion and B&H Publishing will donate a copy to Prison Fellowship to be distributed to inmates and Chaplains throughout the country.
Prison Fellowship is bringing transformational hope to inmates as it is the nation's largest Christian nonprofit serving prisoners, former prisoners, and their families, and a leading advocate for criminal justice reform. The organization helps transform those who once broke the law, mobilizing them to serve their communities and replace the cycle of crime with a cycle of renewal.
"What a powerful opportunity," said Giglio. "Through my own experience of more than thirty-years guiding millions of young people, I've seen the painful ramifications of the fatherless epidemic. And it's a huge privilege to bring the 'Not Forsaken' message to these inmates, many of when are in desperate need of a father's blessing.  I want to help them find an identity-shifting connection to God as their perfect father, especially those who have difficulty connecting to this facet of God's character due to their personal relationships with their dads. I'm grateful to our partnership with Prison Fellowship and the opportunity to be a small part of the important work they do to bring the hope of Jesus to prisoners throughout the United States."
For more than 20 years, Louie Giglio, and his wife, Shelley, have shepherded young people around the world through the Passion Movement, a spiritual awakening that is changing the world. The movement grows stronger every year at the Giglio-led Passion Conference, a gathering tens-of-thousands of collegiate young people aged 18 to 25, who come together to learn, worship, and focus on what matters most.
For more information about Louie Giglio and his book, "NOT FORSAKEN: Finding Freedom as Sons & Daughters of a Perfect Father," please visit LouieGiglio.com. For more information about the Prison Fellowship, please visit PrisonFellowship.org.
ABOUT LOUIE GIGLIO
Louie Giglio is Pastor of Passion City Church and the Original Visionary of the Passion movement, which exists to call a generation to leverage their lives for the fame of Jesus. Since 1997, Passion has gathered collegiate-aged young people in events across the US and around the world and continues to see 18-25 year-olds fill venues across the nation in pursuit of lives lived for God's glory. Most recently, Passion hosted 40,000 college students and their leaders in four venues linked together across three cities at Passion 2019. In addition to the collegiate gatherings of Passion Conferences, Louie and his wife Shelley lead the teams at Passion City Church, sixstepsrecords, Passion Publishing, and the Passion Global Institute. Louie is the national bestselling author of "Goliath Must Fall," "Indescribable: 100 Devotions About God & Science," "The Comeback," "The Air I Breathe," and "Am Not But I Know I Am." Louie and Shelley make their home in Atlanta, Georgia.
ABOUT PRISON FELLOWSHIP
Prison Fellowship is the nation's largest outreach to prisoners, former prisoners, and their families, and a leading voice for criminal justice reform. With more than 40 years of experience helping restore men and women behind bars, Prison Fellowship advocates for federal and state criminal justice reforms that transform those responsible for crime, validate victims, and encourage communities to play a role in creating a safe, redemptive, and just society.
CONTACT:  Sarah Payton, 615.829.0977  Sarah@ChoicePublicity.com