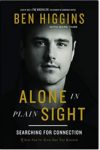 Ben Higgins, author of new book "Alone in Plain Sight,"
on Jesus Calling Podcast
Former Bachelor star and founder of Generous Coffee, Ben Higgins, recently joined the Jesus Calling Podcast to share how he had a moment in his childhood that made him realize that people's stories are more complex than he ever thought possible, and that pain and suffering are interwoven with joy. After Ben's following boomed from the publicity that being on national television brought, he realized he had an opportunity to use his platform for good, for change in the lives of those who desperately need it. That's when he founded Generous Coffee, seeking to fulfill a purpose greater than himself and connecting with stories that truly mean something to us as humans. Higgins' book, "Alone in Plain Sight," is available from Thomas Nelson.
More…