Becca Stevens, Nationally Well-Known Social Entrepreneur
and Founder of Thistle Farms,
Publishes First Book with Thomas Nelson
Love Heals to Release September 5, 2017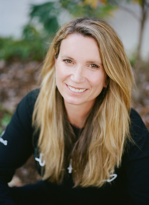 Contact:
Stefanie Schroeder
Senior Publicist
tel:   615.902.1722
web: Stefanie.Schroeder@harpercollins.com
Nashville, Tenn. – Becca Stevens, president & founder of Thistle Farms, speaker, and nationally well-known social entrepreneur, will publish her first book with Thomas Nelson, Love Heals, in September 2017. "Love Heals" is also the motto of Thistle Farms, a nonprofit which serves survivors of abuse, addiction, trafficking and prostitution. The book will feature stories from Stevens and the survivors at Thistle Farms to show how love and healing can transform lives.
"Becca is internationally recognized for helping change lives through love and faith," said Laura Minchew, Senior Vice President and Publisher of Children's Books, Gift Books and New Media at Thomas Nelson. "These stories are astounding. The core message that Becca infused into Thistle Farms is the phrase 'Love Heals.' In this book, Love Healsreaders are inspired to find tangible ways to invite love to heal their own lives, and it will help them make a difference in the lives of others as well."
Stevens recently was nominated as a finalist in the CNN Heroes competition due to the impact that Thistle Farms has made on a global scale. (Video available here.) Stevens has been named one of the top ten finalists. She has been featured in The New York Times, on ABC World News, NPR, PBS, and other media outlets. In 2011, the White House named Stevens a "Champion of Change."
Love Heals will be supported by a national advertising and PR campaign that will reach millions with this impactful message.
# # #
About Thomas Nelson: Thomas Nelson is a world leading publisher and provider of Christian content and has been providing readers with quality inspirational product for more than 200 years. As part of HarperCollins Christian Publishing, Inc., the publishing group provides multiple formats of award-winning Bibles, books, gift books, cookbooks, curriculum and digital content, with distribution of its products in more than 100 countries. Thomas Nelson, is headquartered in Nashville, TN. For additional information visit www.thomasnelson.com.