Barbour to release new fiction series with genealogy theme
Olivia Newport's New Fiction Series Appeals to America's Fascination with Genealogy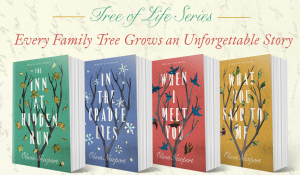 Uhrichsville, OH—Millions of Americans have become captivated with uncovering their family histories. In fact, genealogy is touted as the second most popular hobby in the United States. That's why the timing of Barbour's latest series by Olivia Newport could not be better.
Tree of Life, a charmingly heartfelt and often surprising series, explores and celebrates family stories against the backdrop of a lovely Colorado mountain town readers will want to visit (and revisit). Stories (often based on actual historical events) are uncovered and woven together by an endearing father-daughter genealogy duo. Characters learn about who they are, where they come from, and their unique faith journeys as they discover their own Tree of Life.
This truly unique series will launch in May 2019 with the release of The Inn at Hidden Run, which follows genealogist Jillian as she traces a tradition of doctors to an ancestor saved during a yellow fever outbreak in Memphis in 1878. Four books are currently planned with the potential for more releases in the future.
"The charming warmth of Olivia Newport's characters and setting are what drew me in," said Annie Tipton, senior acquisitions editor. "But it is the genealogy journeys of discovery— connecting past to present, brokenness to healing, and heritage to faith—that keep me wanting to read more!"
Release Schedule for First Four Books:
May 2019: The Inn at Hidden Run by Olivia Newport 978-1-68322-994-0
November 2019: In the Cradle Lies by Olivia Newport 978-1-68322-995-7
May 2020: When I Meet You by Olivia Newport 978-1-68322-996-4
November 2020: What You Said to Me by Olivia Newport 978-1-68322-997-1
To learn more about the Tree of Life series, visit www.barbourbooks.com or view our latest catalog on Edelweiss.
Media Contact: Shalyn Sattler ssattler@barbourbooks.com 740.922.6045 X 109