Barbour launches unique historical fiction series
Barbour's Exciting New Fiction Series Follows a Family Tree through American History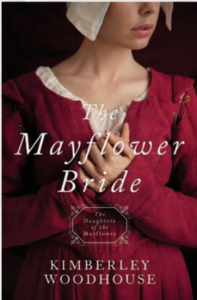 Uhrichsville, OH—Barbour Publishing is excited to announce the launch of a one-of-a-kind new fiction series created for lovers of history, adventure, romance, and family legacy. The Daughters of the Mayflower will follow a family tree linked by daughters across American history from the landing of the Mayflower through the events of Word War II.
The 18-book series, scheduled to release over the course of three years, will kick off in February 2018 with The Mayflower Bride by popular author Kimberley Woodhouse. This book, which takes place in 1620, features voyages on both the Speedwell and the Mayflower and will set the stage for subsequent books with its focus on adventure, romance, and a thread of espionage that is woven throughout each of the 18 stories.
Releasing every other month by a team of well-known authors, the Daughters of the Mayflower will satisfy voracious readers of Christian fiction continuously for three years. The books are written in such a way that they can be read in succession or stand alone, making them perfect for readers interested in specific time periods in American history.
Release Schedule for First Six Books:
February 2018:
The Mayflower Bride by Kimberley Woodhouse
Setting: Atlantic Ocean and Massachusetts Bay Colony, 1620
Notable Events: The Voyage of the Mayflower
April 2018:
The Pirate Bride by Kathleen Y'Barbo
Setting: New Orleans, 1725
Notable Events: Backdrop of the former French and Spanish stronghold
June 2018:
The Captured Bride by Michelle Griep
Setting: Upper Fort Wilderness in Upstate New York, 1760
Notable Events: French and Indian War
August 2018:
The Patriot Bride by Kimberley Woodhouse
Setting: Massachusetts, Pennsylvania, and Virginia, 1774-1775
Notable Events: The Revolutionary War
October 2018:
The Cumberland Bride by Shannon McNear
Setting: Cumberland Gap, 1794
Notable Events: Settlers migrating West and conflicts with Native Americans
December 2018:
The Liberty Bride by MaryLu Tyndall
Setting: Maryland, 1812
Notable Events: The War of 1812
To learn more about the Daughters of the Mayflower series, visit www.barbourbooks.com or view our latest catalog on Edelweiss.
Media Contact: Shalyn Sattler ssattler@barbourbooks.com 740.922.6045 X 109