Baker Publishing Group wins
three Christy Awards™
Ada, Mich. (November 14, 2017)—The winners of the 2017 Christy Awards were announced on Wednesday, November 8, at the Christy Award Gala in Nashville, TN. Three titles published by Bethany House Publishers, a division of Baker Publishing Group, won an award.
Her One and Only by Becky Wade won in the Contemporary Romance category, and The Mark of the King by Jocelyn Green won in the Historical category. A Note Yet Unsung by Tamera Alexander tied for first place in the Historical Romance category.
Established in 1999, the Christy Awards recognize the value of Christian novels in contemporary culture and honor authors who create stories written from a perspective of faith. For the complete list of winners, please click here.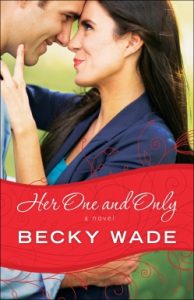 Her One and Only by Becky Wade
(Bethany House; ISBN 9780764211102; ebook ISBN 9781441269461; $13.99)
Gray Fowler, star NFL tight end, is being pursued by a stalker, so his team hires a protection agency to keep Gray under the watch of a bodyguard at all times. When Gray meets Dru Porter, an agent assigned to him, he's indignant. How can an attractive young female half his size possibly protect him? But Dru's a former Marine, an expert markswoman, and a black belt. She's also determined to uncover the identity of Gray's stalker. And she's just as determined to avoid a romantic attachment between herself and the rugged football player. But the closer they get to finding the stalker, the closer they grow to each other. As the danger rises, can Dru and Gray entrust their hearts—and their lives—to one another?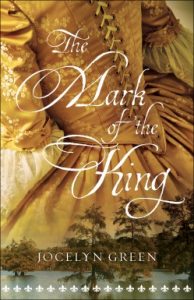 The Mark of the King by Jocelyn Green
(Bethany House; ISBN 9780764219061; ebook ISBN 9781441231079; $14.99)
After the death of her client, midwife Julianne Chevalier is imprisoned and branded, marking her as a criminal beyond redemption. Hoping to reunite with her brother, Benjamin, she trades her life sentence for exile to the fledgling French colony of Louisiana. The price of her transport, however, is a forced marriage to a fellow convict. New Orleans is nothing like Julianne expects, and there is no news of Benjamin. When tragedy strikes, she turns to military officer Marc-Paul Girard for help, but does he know more about her brother than he will admit? With her dreams shattered, Julianne must find her way in this dangerous land, where only grace—and love—can overcome the stigma of the king's mark upon her shoulder.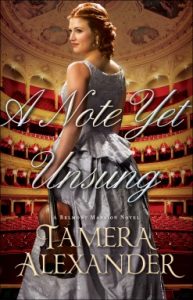 A Note Yet Unsung by Tamera Alexander
(Bethany House; ISBN 9780764206245; ebook ISBN 9781441230942; $15.99)
A master violinist trained in Vienna, Rebekah Carrington manages to get an audition at the newly formed Nashville Philharmonic. But women are "far too fragile and frail" for the rigors of an orchestra, and Rebekah's hopes are dashed because the conductor bows to public opinion. Nationally acclaimed conductor Nathaniel Tate Whitcomb is Nashville's new orchestra leader. And despite a reluctant muse—and a strange recurring pain in his head—he must finish composing his symphony before the grand opening of the city's new opera hall. But he must also finish it for the one who inspired his love of music—his father, who is dying. As Tate's ailment worsens, he believes Rebekah can help him finish his symphony. But how do you win back a woman's trust when you've robbed her of her dream?
Bethany House has been publishing high-quality books for over 50 years. Recognized as the pioneer and leader in Christian fiction, we publish over 75 new fiction and nonfiction titles annually in subjects including historical and contemporary fiction, Christian living, devotional, family resources, and theology.
Baker Publishing Group publishes high-quality writings that represent historic Christianity and serve the diverse interests and concerns of evangelical readers.
Contact: Lynnae Lubbers
(616)676-9185 x193  llubbers@bakerpublishinggroup.com