Baker Publishing Group wins Christianity Today Awards
Ada, Mich. (January 7, 2020)—Christianity Today recently announced the winners of their 2020 Book Awards. Two Baker Publishing Group titles received top honors, and one title received an award of merit. Light from Distant Stars by Shawn Smucker was selected as the winner in the Fiction category, and On the Road with Saint Augustine by James K. A. Smith won the Spiritual Formation category. For the Life of the World by Miroslav Volf and Matthew Croasmun received an award of merit in the Theology/Ethics category.
Light from Distant Stars by Shawn Smucker (Revell; ISBN 9780800728519; ebook ISBN 9781493417735; $14.99)
When Cohen Marah steps over his father's body in the basement embalming room of the family's funeral home, he has no idea that he is stepping into a labyrinth of memory. Over the next week, Cohen's childhood comes back in living color: a series of dramatic events. As the lines blur between what was real and what was imaginary, Cohen is faced with the question he's been avoiding: Is he responsible for his father's death? Master story weaver Shawn Smucker relays a tale both eerie and enchanting, one that will have you questioning reality and reaching out for what is true, good, and genuine.
Nicole Baart, novelist and author of You Were Always Mine and Little Broken Things stated, "Light from Distant Stars is a singular experience, one infused with all the beauty and mystery of a broken creation that groans as in the pains of childbirth."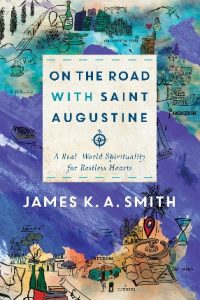 On the Road with Saint Augustine by James K. A. Smith (Brazos Press; ISBN 9781587433894; ebook ISBN 9781493419968; $24.99)
Augustine, says Smith, is the patron saint of restless hearts—a guide who has been there, asked our questions, and knows our frustrations and failed pursuits. Addressing believers and skeptics alike, this book shows how Augustine's timeless wisdom speaks to the worries and struggles of contemporary life, covering topics such as ambition, sex, friendship, freedom, parenthood, and death. As Smith vividly and colorfully brings Augustine to life for 21st-century readers, he also offers a fresh articulation of Christianity that speaks to our deepest hungers, fears, and hopes.
"On the Road with Saint Augustine is a rare book. It's weighty, beautiful, and insightful. I opened this book expecting to learn from and about Augustine, but I didn't expect that he would become my traveling companion. We have more in common with this ancient African monk than we realize," commented Darryl Dash, pastor and church planter and author of How to Grow.
Additionally, a Brazos Press title won an Award of Merit in Theology/Ethics: For the Life of the World by Miroslav Volf and Matthew Croasmun.
Christianity Today honors the books they consider "most likely to shape evangelical life, thought, and culture." For the complete list of winners, please click here.
Baker Publishing Group publishes high-quality writings that represent historic Christianity and serve the diverse interests and concerns of evangelical readers.
Contact: Ruth Anderson, (616)676-9185 x8131  randerson@bakerpublishinggroup.com