Baker Publishing Group title wins Christian Book Award®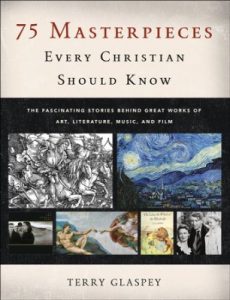 Ada, Mich. (May 3, 2017)—The Evangelical Christian Publishers Association recently announced the winners of the 2017 Christian Book Awards® during their leadership summit in Colorado Springs, Colorado. This award recognizes the highest quality in Christian books and Bibles and is one of the oldest and most prestigious awards in Christian publishing. 75 Masterpieces Every Christian Should Know by Terry Glaspey won in the Faith & Culture category. For the complete list of winners, please click here.
75 Masterpieces Every Christian Should Know by Terry Glaspey
(Baker Books; ISBN 9780801017100; ebook ISBN 9781493400461; $29.99)
Some of the greatest painters, musicians, architects, writers, filmmakers, and poets have taken their inspiration from their faith and impacted millions of people with their striking creations. This stunning celebration of 75 masterpieces of art, literature, film, and music paints a portrait of the artists who created them and the faith that made their work come alive. From the Roman catacombs to Rembrandt, from Bach to U2, from John Bunyan to Frederick Buechner, author and historian Terry Glaspey unveils the absorbing true stories behind these masterpieces. By looking through the eyes of these creative artists, readers gain deeper perspectives about the human condition, the Christian story, and their own spiritual lives.
Baker Books publishes books that are relevant, intelligent, and engaging. Our titles cover topics such as personal development, encouragement, spirituality, and relationships.
Baker Publishing Group publishes high-quality writings that represent historic Christianity and serve the diverse interests and concerns of evangelical readers.
Contact: Lynnae Lubbers
(616)676-9185 x193  llubbers@bakerpublishinggroup.com