Baker Publishing Group signs contract with author and popular podcaster, Annie F. Downs
Ada, Mich. (Sept. 13, 2019)—Revell Books, a division of Baker Publishing Group, is pleased to announce the signing of a multi-book contract with Annie F. Downs.
The first book, That Sounds Fun, named after her successful podcast, will be an irresistible invitation to readers to understand the meaning of fun, to embrace fun, to chase fun, and to figure out what sounds fun to them. Readers will be invited to remember that life is not meant to be lived in fear, but instead to be experienced through wide-open faith with a healthy dose of laughter.
"Whether she's writing or speaking, or interviewing others on her podcast, Annie F. Downs has the ability to connect with people, make them think, make them laugh, and help them move forward in their faith," said Andrea Doering, editorial director for Revell. "That ability to inspire, to offer hope and healing is something we value deeply at Revell—and why we're thrilled to partner with Annie."
Downs reaches nearly 300,000 engaged readers, fans, and followers every day through her online channels. In addition, she connects with more than 100,000 people every year through speaking at live events and with millions though her podcast platforms.
"Writing books is more than just my job, it's my joy and my calling," said Downs. "I feel so honored to get to start a long-term relationship with Baker Publishing Group and the team at Revell Books as they live with those same convictions as well. I'm thrilled the creativity, excellence, and high quality that I have long enjoyed as a reader of Revell Books will now be at work with my words and ideas as well, as we seek to provide books that influence many towards the love of God and the Gospel of Jesus Christ (and have tons of fun while doing it!)."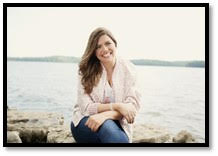 Her contract with Baker Publishing Group includes eight titles with the first to release in Spring 2021. Downs is represented by Lisa A. Jackson of Alive Literary Agency.
Annie F. Downs is a best-selling author, highly sought-after speaker, and popular podcast host who has spent a lifetime building relationships and learning what it means to have fun. The author of multiple bestselling books, Annie weaves personal storytelling, humor, and Scripture into everything she does, inviting her fans to join her as she learns what it means to live life to the fullest.
Revell, a division of Baker Publishing Group, offers practical books that bring the Christian faith to everyday life.
Contact:  Kelli B. Smith, (616) 676-9185 x394  ksmith@bakerpublishinggroup.com